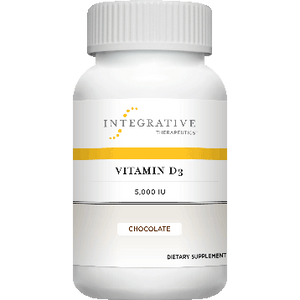 Vitamin D3 5000IU (Chocolate Chewable)
Integrative Therapeutics Vitamin D3 5000IU (90 Chewable Tablets)
Vitamin D3 is a highly potent chewable Vitamin D3. This product contains 5000 IU vitamin D3 (as cholecalciferol) per tablet.
Vitamin D (as cholecalciferol) 5,000 IU
Other ingredients:
organic inulin, sorbitol, mannitol, natural chocolate flavor, cocoa powder flavor, organic maltodextrin, erythritol, natural vanilla flavor, magnesium stearate, carnauba wax, and silicon dioxide
Caution: Consult your healthcare professional if you have a kidney disorder, hypercalcemia, hypercalciuria, are taking medications, or are pregnant/lactating. Keep out of reach of children.
---
We Also Recommend