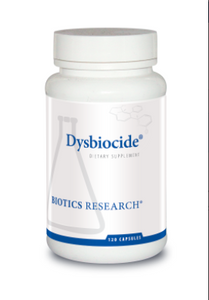 Dysbiocide
Dysbiocide 120 caps
Dosage:
Two (2) capsules two (2) times each day as a dietary supplement or as otherwise directed by a healthcare professional.

Active Ingredients:
Dill (Anethum graveolens) (seed), Stemona (Stemona sessilifolia) (root) (powder and extract), Wormwood (Artemisia absinthium) (shoot & leaf) (extract), Java Brucea (Brucea javanica) (fruit) (powder & extract), Chinese Pulsatilla (Pulsatilla chinensis) (rhizome) (powder & extract), Jamaica Quassia (Picrasma excelsa) (bark) (extract), Cutch Tree (Acacia catechu) (heartwood & bark) (powder & extract), Hedyotis (Hedyotis diffusa) (aerial part) (powder & extract), Yarrow (Achillea millefolium) (leaf & flower) (extract).

Other Ingredients:
Capsule shell (gelatin and water) and magnesium stearate (vegetable source). This product is gluten and dairy free.