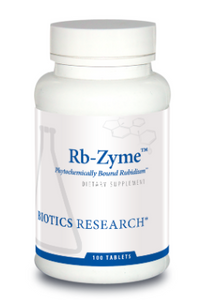 RbZyme (Rubidium)
Dosage: 
One (1) tablet each day as a dietary supplement or as otherwise directed by a healthcare provider.
Active Ingredients: 
Rubidium (from vegetable culture †). † Specially grown, biologically active vegetable culture containing Phytochemically Bound Rubidium™ and naturally associated phytochemicals including polyphenolic compounds with SOD and catalase, dehydrated at low temperature to preserve associated enzyme factors.
Other Ingredients: 
Cellulose, magnesium stearate (vegetable source), stearic acid (vegetable source) and food glaze. This product is gluten, dairy and GMO free.