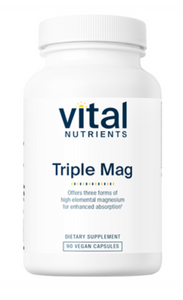 Triple Mag
Triple Mag 250 mg 90 caps
Dietary Supplement
Supplement Facts
Serving Size: 1 Capsule
Servings per Container: 90
Amount per Serving
Magnesium 250 mg
(10% as magnesium glycinate, 30% as dimagnesium malate, 60% as magnesium oxide)
Other Ingredients: Gelatin capsule, magnesium silicate and leucine.
Recommendations: 1 to 2 capsules once or twice daily, or as directed by your healthcare professional.
Warning: If pregnant, consult your physician before taking.\
Contains no coatings, binders, yeast, wheat, gluten, milk/dairy, corn protein, soy protein, eggs, sugar, hydrogenated oil, artificial coloring, artificial flavoring or preservatives.
Independently tested for authenticity, potency, heavy metals, solvent reside, stability and bacteria, yeast and mold counts.
Store sealed in a cool dry place.
Keep out of reach of children.
Use only if safety seal is intact.
---
We Also Recommend