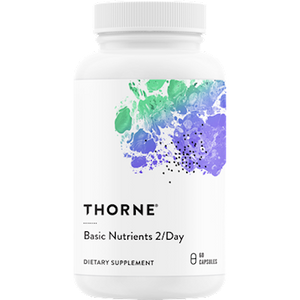 Basic Nutrients 2/Day
Thorne Basic Nutrients 2/Day (60 Vegetarian Capsules)
Ingredients
Two Capsules Contain:
Vitamin A (3,000 IU from Mixed Carotenes and 2,000 IU as Palmitate) 5,000 IU
Vitamin C (as Ascorbic Acid) 250 mg
Vitamin D (as Vitamin D3) 2,000 IU
Vitamin E (as d-Alpha Tocopheryl Acid Succinate) 20 IU
Vitamin K (200 mcg as Vitamin K1 and 200 mcg as Vitamin K2) 400 mcg
Thiamin (as Thiamin HCl) 50 mg
Riboflavin (as Riboflavin 5'-Phosphate Sodium) 12 mg
Niacin (as Niacinamide) 80 mg
Vitamin B6 (as Pyridoxal 5'-Phosphate) 20 mg
Folate (as L-5-Methyltetrahydrofolate* from L-5-Methyltetrahydrofolic Acid, Glucosamine Salt) 400 mcg
Vitamin B12 (as Methylcobalamin) 600 mcg
Biotin 500 mcg
Pantothenic Acid (as Calcium Pantothenate) 45 mg
Calcium (as Calcium Bisglycinate Chelate) 30 mg
Iodine (as Potassium Iodide) 75 mcg
Magnesium (as Magnesium Bisglycinate Chelate) 20 mg
Zinc (as Zinc Bisglycinate Chelate) 15 mg
Selenium (as Selenomethionine) 200 mcg
Copper (as Copper (II) Bisglycinate Chelate) 750 mcg
Manganese (as Manganese (II) Bisglycinate Chelate) 3 mg
Chromium (as Chromium Nicotinate Glycinate Chelate) 400 mcg
Molybdenum (as Molybdenum (II) Glycinate Chelate) 100 mcg
d-Gamma Tocopherol (from Mixed Tocopherols) 24 mg
Boron (as Bororganic Glycine) 2 mg

Other Ingredients: Hypromellose (derived from cellulose) capsule, Microcrystalline Cellulose, Calcium Laurate, Silicon Dioxide.

Gamma tocopherol does not have a recognized IU equivalent.
*This product uses Gnosis S.p.A.'s L-5-Methyltetrahydrofolic Acid, Glucosamine Salt (Quatrefolic®). Quatrefolic is a registered trademark of Gnosis S.p.A.
Suggested Use
Take 2 capsules daily or as recommended by your health-care practitioner.
Statements and Warnings
ALLERGY WARNINGS
This product is contraindicated in an individual with a history of hypersensitivity to any of its ingredients.

Iodine may occasionally cause an allergic reaction in some individuals.

PURITY
This product does not contain wheat, gluten, corn, yeast, soy, egg, dairy products, or artificial colors, artificial sweeteners, or artificial flavors. This product also does not contain lactose, palmitic acid, magnesium stearate, or stearic acid.

PREGNANCY
If pregnant, consult your health-care practitioner before using this product.

INTERACTIONS
There are no known adverse interactions or contraindications at publication date.

ADDITIONAL WARNINGS
5-methyltetrahydrofolate supplementation is not recommended concurrently with methotrexate cancer therapy, as it can interfere with methotrexate's anti-neoplastic activity; however, this folate source has not been shown to interfere with the anti-inflammatory activity of methotrexate. An individual taking methotrexate for psoriasis or rheumatoid arthritis can safely take a supplement containing folate.
---
We Also Recommend