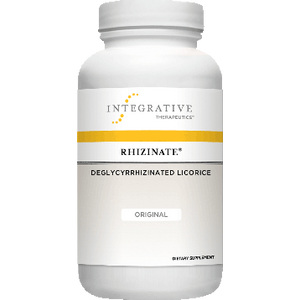 Rhizinate DGL Licorice
Rhizinate® DGL 100 chew
Dietary Supplement
- Deglycyrrhizinated Licorice
Rhizinate® deglycyrrhizinated licorice stimulates the natural protective factors in the digestive tract which help relieve occasional stomach discomfort.* In Rhizinate, the glycyrrhizin compound— associated with high blood pressure—has been removed. This unique chewable formula allows DGL to mix with saliva for faster action on the gastric mucosa.*
Recommendations: Chew 2 tablets twenty minutes before each meal, or as recommended by your healthcare professional.
Supplement Facts
Serving Size 2 chewable tablets
Servings Per Container 50
Amount Per 2 tablets
Calories 10
Total Carbohydrate 3 g
Sugars 1 g
Sodium 5 mg
Deglycyrrhizinated Licorice (DGL) 760 mg
(Glycyrrhiza glabra) Root Extract
Glycine 100 mg
Other ingredients: fructose, mannitol, sorbitol, anise seed powder, stearic acid, natural anise flavor, cellulose, silicon dioxide, and magnesium stearate.
Contains no yeast, wheat, gluten, soy, dairy products, artificial coloring, artificial flavoring, preservatives, or ingredients of animal origin. This product contains natural ingredients; color variations are normal.
If pregnant, nursing, or taking prescription drugs, consult your healthcare professional prior to use.
*THIS STATEMENT HAS NOT BEEN EVALUATED BY THE FOOD AND DRUG ADMINISTRATION. THIS PRODUCT IS NOT INTENDED TO DIAGNOSE, TREAT, CURE, OR PREVENT ANY DISEASE.
---
We Also Recommend